To say Kate Bush's 1985 release "Running Up That Hill" had a steady rise to Number 1 in the UK & US charts would be an understatement. After 37 years, the single from the album Hounds of Love reached the pinnacle, with a bit of help from Netflix.
The prominent use of the track in Season 4 of Stranger Things saw the single regain its popularity and then exceed it, triggering the memory of those old enough to remember it the first time around whilst introducing it to a younger audience.
Stranger Things character Max Mayfield (played by Sadie Sink) uses the song as a mechanism to fend off Vecna, a monster from the Upside Down, helping cut through Vecna's psychological grasp, and regain Max's consciousness through a positive association with music.
#TrendlineTuesday
The 1985 release was far from a failure, gaining notoriety and top 10 chart positions in several countries. However, with the advent of music streaming through platforms such as Apple Music and `Spotify – music has never been so easy to access, with this immediacy boosting chart positions.
Running Up That Hill Chart Positions 1985 vs. 2022
The song gained 29 places in the US between 1985 and 2022, likewise a huge increase in New Zealand where it topped the charts almost four decades since charting at 26.
| | | | |
| --- | --- | --- | --- |
| Country | 1985 | 2022 | Change |
| 🇬🇧 United Kingdom | 3 | 1 | +2 |
| 🇮🇪 Ireland | 4 | 1 | +3 |
| 🇺🇸 United States | 30 | 1 | +29 |
| 🇦🇺 Australia | 6 | 1 | +5 |
| 🇳🇿 New Zealand | 26 | 1 | +25 |
Users searched for Running Up That Hill on Google >100x more than any other month recorded in Google Trends' history (since 2004). Users in the UK and Ireland drove the increased search demand, as did users in the US and Australia.
Hounds of Love, the album containing Running Up That Hill has also seen a bounce, with breakout search trends – similar to single – on Google.

Interestingly, the Futureheads song, Hounds of Love, hit the charts in 2005 causing cross-pollination in searches for that song and the album by Kate Bush.
Running up that hill remix at the 2012 Olympics
A remix of the song was used as part of a medley at the 2012 Olympic Games closing ceremony, seeing a brief increase in searches as users scrambled to find and play the version. However, given the surge in popularity, this has since paled into insignificance.
2010's popularity in Central and Eastern Europe
There was an increase in search activity for the song from the Balkan and Baltic states within Southern, Eastern and Central Europe. With North Macedonia and Latvian users particularly loving the track. Why? Answers on a postcard, please!
Discogs demand surges
Music marketplace and database: Discogs, reported sharp rises in their community searching for Running Up That Hill. The site saw a 1028% increase in the song being added to user's wantlists following the release of Stranger Things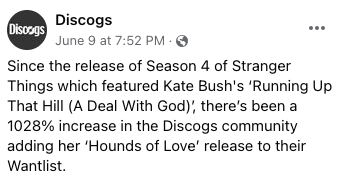 It goes to show, that with so many methods of researching and streaming music – with the right partnerships or bit of luck, songs never truly die. One more time, Kate, take it away:
Data Sources: Google Trends, Discogs, Wikipedia.